So this time I'm writing in English as I was in London and wanted to share this article with the mountain bike display team Savage Skills I took a few photos of.
Sometimes it's a good idea to "restrict" yourself when it comes to photography. One way to do this is by taking just a single prime lens with you and try to see world with it's fixed focal-length. This forces you to try different angles and type of shots all together.
So as I was visiting London I went to Highbury Fields to see Go Islington! -event taking my Zeiss Batis 85mm 1.8 lens and Sony A7II camera to a stroll. The good thing with this large-aperture short telephoto lens is that you can get a quite shallow depth-of-field to separate the subject from background. This way it doesn't matter so much whatever is in the background - as long as it is far enough it is blurred away. Also what you get with this type of lens is some reach which enables you to take more candid shots. On the other hand it also means that to get more of the surroundings to your photo you have to take a few steps back - or might not be able to it at all.
The first thing I tried to take photos of was a few Scottish Sheepdogs herding Indian Runner ducks. Not knowing anything about these animals or how they behave I had a hard time getting a decent composition. My goal was to get the dog facing to camera and the ducks running roughly towards me and was barely able to take just a few successful shots.
A mountain bike team called Savage Skills were there and they put on a good show jumping and climbing with their BMX-bikes. Nailing the focus with Zeiss Batis 85 mm was quite easy with fast moving subjects but it did take some planning to get good composition so that the jumps looked as high as they were in reality.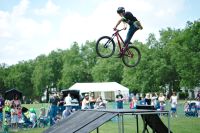 There also was a falconry-show where I tried to catch a photo of a flying bird. This proved to be an impossible task with the gear I had. The camera just refused to nail the focus even in a bright daylight! The job wasn't an easy task by all means: a dark bird was flying towards me on a dark background so a compact system camera with a limited amount of phase-detection points was struggling where a traditional-type system camera would probably had not.
A few bonus shots: